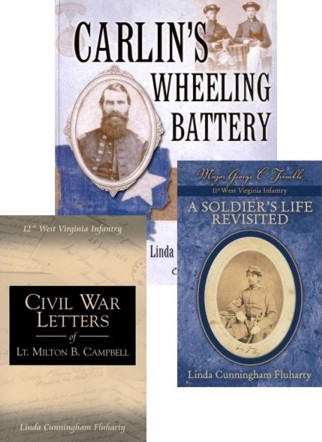 ---
---

FEATURED SITES
ROSTERS, ETC.
GENERAL WEST VIRGINIA CIVIL WAR INFO
BIOGRAPHIES
(Hundreds More on the Featured Sites)
MILITIA, HOME GUARDS, SCOUTS
1890 CENSUS - VETS & WIDOWS
CIVIL WAR: OTHER
RELATIVES IN THE CIVIL WAR
LINDA'S MILITARY PAGES w/CIVIL WAR SECTIONS
---
This site map is owned by Linda Cunningham Fluharty.
© November, 2002
www.lindapages.com is owned by and PAID FOR by Linda Cunningham Fluharty.
ALL links are to sites owned by and/or created and maintained by Linda Cunningham Fluharty.
The information on my sites is FREE for use in compiling family histories. The information on my sites may NEVER be published, copied, sold or used in ANY commercial venture (including by sites that offer nothing but LINKS to other people's work), or by any business, without the knowledge & permission of Linda Cunningham Fluharty and/or the person who contributed the information. NO ONE may download files and post them on another website, nor may they present them as their own work! ONLY a LINK, with permission, and giving proper credit, is acceptable. - ALSO, the files, or significant portions, may NOT be posted on the ancestry.com site, or other such sites. - However, if you choose to post selected parts of files, in fairness to the people who worked to make the information available FREE online, PLEASE cite the source and give credit where credit is due! - There is NO guarantee of complete accuracy of this information.